Here you have 5 of the best places for kayaking in Andalusia.
These kayak trips are suitable for everyone, to do with family, couple or friends.
All of them are easy level so you can do them at any age and level. In all its starting points you will find companies with which you can hire both guided tours and rentals in some cases.
Table of contents
1. Maro – Cerro Gordo Waterfall and Cliffs, Málaga.
2. La Herradura Beach, Granada.
3. Mermaids Reef in Cabo de Gata, Almería.
5. The Río Piedras Wetlands, Huelva.
1. Maro – Cerro Gordo Waterfall and Cliffs, Málaga.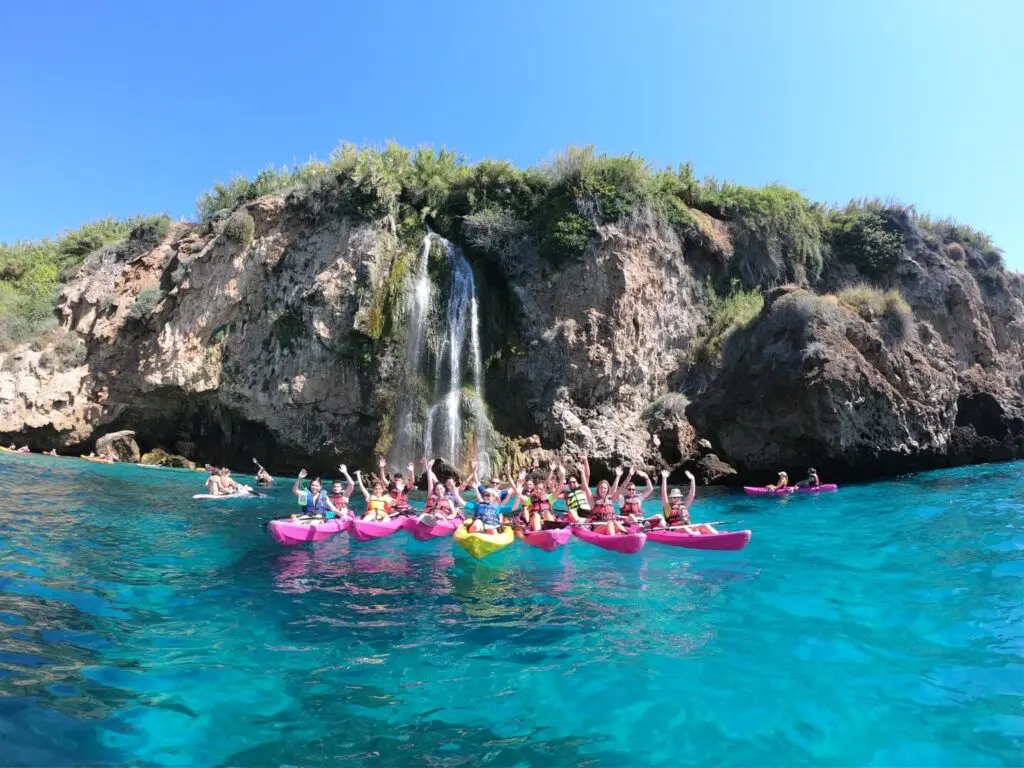 Located on the east coast of Malaga, in the municipality of Maro (Nerja), is one of the most beautiful routes in Spain as it combines a rugged landscape in which small coves are mixed with cliffs, rocky areas with waterfalls and incredible clear waters, beaches that can only be accessed by kayak and mysterious caves.
The trip starts from "Playa de Maro" and takes place between the los acantilados Maro-Cerro Gordo,an area of extraordinary beauty.
Some of the most interesting spots are Cueva del Lobo, Casa de Gaviotas, Caletilla del Maro where you should jump into the water with your snorkel gear and enjoy the impressive sea wildlife, Cascada de las Doncellas and the wonderful Cascada de Maro (Seasonal Waterfall).
The tour will last between two and three hours, depending on how far you want to go and your physical condition.
2. La Herradura Beach, Granada.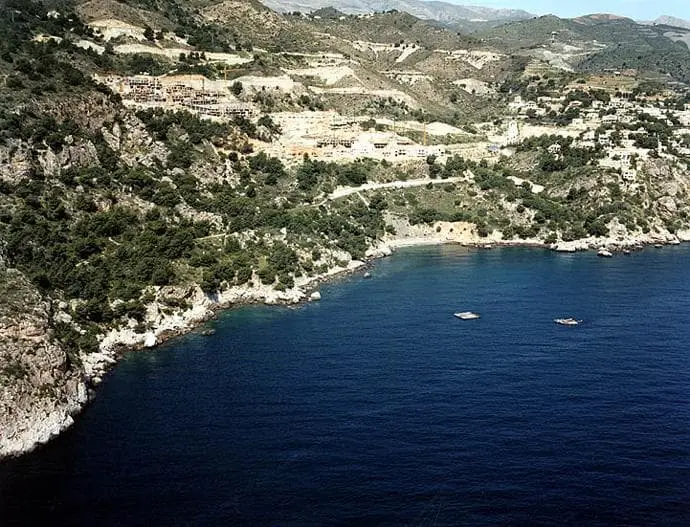 A small paradise on the Tropical Coast in La Herradura , Granada.
Its clear waters and great diversity of sea wildlife will amaze you. Departing from "Playa la Herradura", a beautiful bay with easy access and a variety of restaurants on the beach so you can enjoy them at the end of your route .
If you love Italian food we recommend the restaurant "El mercato" ; a delight.
In this tour through its cliffs you will discover one of the most remarkable caves in the whole area "la cueva de las Palomas". The entrance of the cave is 15 m by 4 meters and the rock walls are carpeted with orange coral just below the waterline, which contrasts with the emerald green waters. Endangered Oceanic Poseidonia is also abundant throughout this area .
"Cala Calaiza" is another point of interest on this route. A paradise for snorkeling lovers.
3. Mermaids Reef in Cabo de Gata, Almería.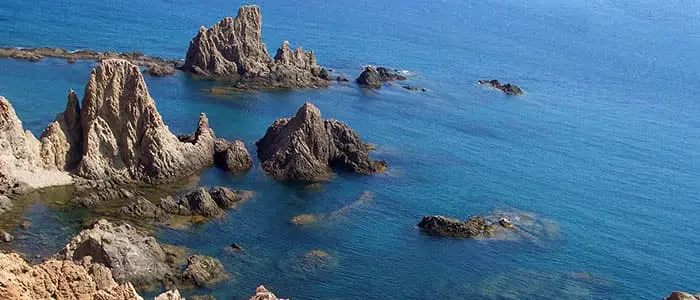 The "Arrecife de las Sirenas" is a kayak route in Cabo de Gata that takes place in the same municipality that gives it´s name to thie Natural Park.
With an approximate duration of 3 hours, this is the main kayak trip in Almeria to kayak Cabo de Gata among its many beaches and coves (more than 40).
Departing from "La Fabriquilla", you will explore a unique spot, starting the tour towards Cala del Corralete, passing through a peculiar area of water extraction that later takes you to the desalination plant and where small waterfalls are formed.
Once you arrive at the Corralete, we recommend to stop and snorkel in order to discover and enjoy the sea wildlife of this impressive cove full of life.
Heading towards the Cabo de Gata Lighthouse, this kayak tour crosses cracks in the mountain on its way with unbeatable and invaluable views from land until the arrival at the well-known Mermaids Reef, a famous place that owes its name to the fact that monk seals used to pose there and their songs were confused with mermaids by sailors.
4. Sancti Petri, Cadiz.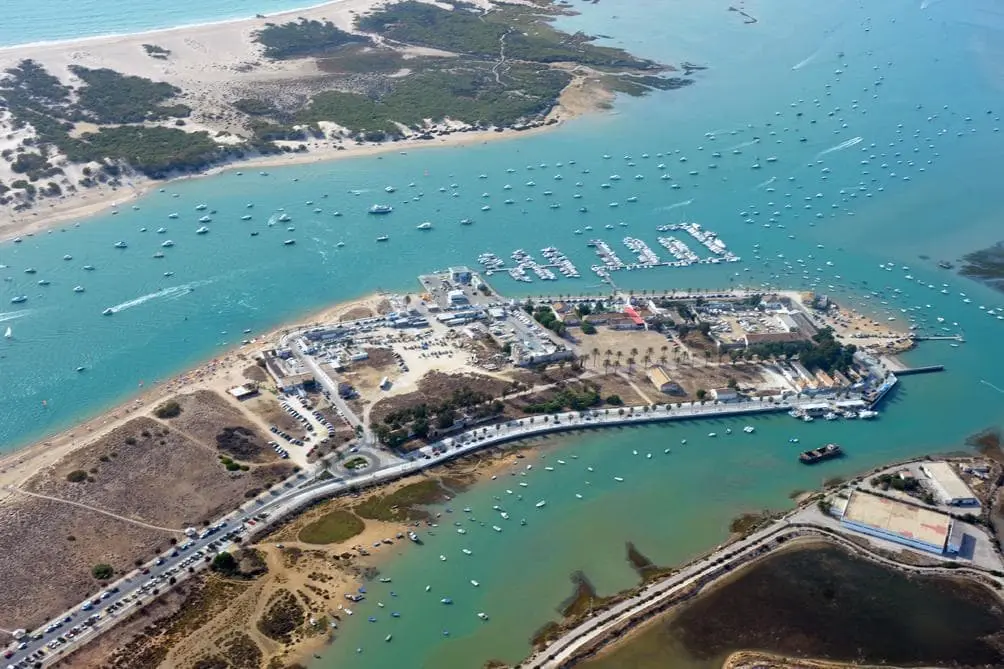 In Costa de la Luz you can find different kayak tours.
This is one of the Must-Do in Chiclana de la Frontera that starts from the port of Sancti Petri. It is highly recommended not to miss the visit to the castle of Sancti Petri, a military fortress whose origins date back to the 18th century.
Amazing route at sunset where you will enjoy a magnificent sunset from the sea, a moment that will last forever
It lasts approximately 2 hours and covers about 3 km.
5. The Río Piedras Wetlands, Huelva.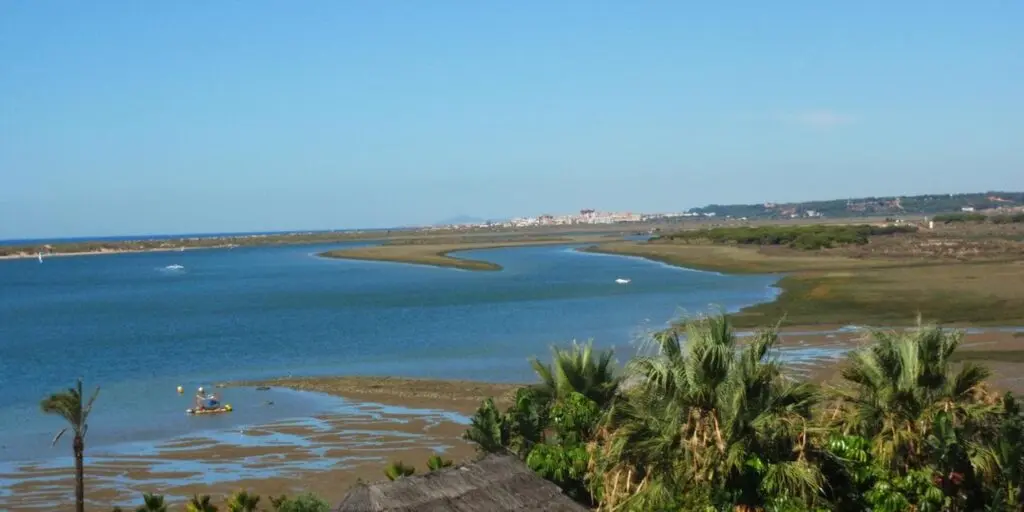 This tour in kayak by the wetlands of Rio Piedras, in our humble opinion, one of the most interesting to make in that zone, especially those tours performed on full moon.
One of the most important wetlands of this province with an incredible environment. Bird watching, chilling and silence will follow you on this excursion; the most peaceful of all those we have mentioned in this article.
Discover from the kayakLas Islas de Piedras in its middle section. The trip will be through the inner zone of the wetlands and the open zone of the Piedras River and according to the tide conditions in the inner zone of the Arrow of El Rompido. The most daring will be able to enjoy an unforgettable swim under the moonlight.