Discover all you can do in Nerja
Nerja is one of the most beautiful towns in the province of Malaga.
In its district, Maro, you can find one of the most beautiful coves of the Axarquía and we are going to tell you that it is not only about beautiful beaches with crystal clear waters.
Nerja has an incredible history dating back to Palaeolithic, Phoenician and Roman times, evidence of which has been found in its spectacular caves.
Known in ancient times as Narixa(abundant source), its mountains, beaches and history will not leave you indifferent. In this article we have selected those places and activities that you cannot miss, so that your visit to Nerja will be one of the best trips of your life.
1. Balcón de Europa
Visit the Balcony of Europe, the historic centre and Chanquete's boat.
The first thing we recommend you do is to visit the most emblematic cultural sites of the place, go for a walk or have an ice cream on the "Balcón de Europa".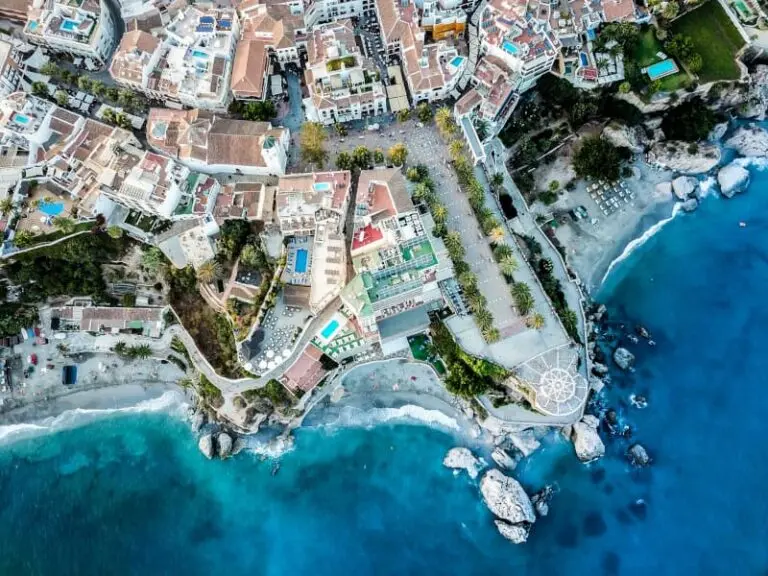 Formerly known as "Paseo de Batería", it owes its name to King Alfonso XIII, who, after visiting the area to see the damage caused by the earthquake in 1885, exclaimed after looking out, "This is the Balcony of Europe".
It was a lookout and defensive point from which to watch for approaching enemies from North Africa. On 20 May 1882, British ships opened fire on it and destroyed it, leaving only two rusty cannons and some rocks from the cannons.
Discover its narrow streets full of charming bars and shops and visit the famous "Barco de Chanquete", located in the Parque Verano Azul. This is one of the must-see photos on your visit to Nerja whether or not you are from the generation of the TV series Verano Azul, which gave us many laughs and tears and stayed forever in our hearts.
2. Cuevas de Nerja
Explore the galleries of the Nerja Cave
We recommend you to book your entrance ticket to the Nerja Cave in advance for the simple fact that we really want you to discover this place and the astonishing beauty hidden inside.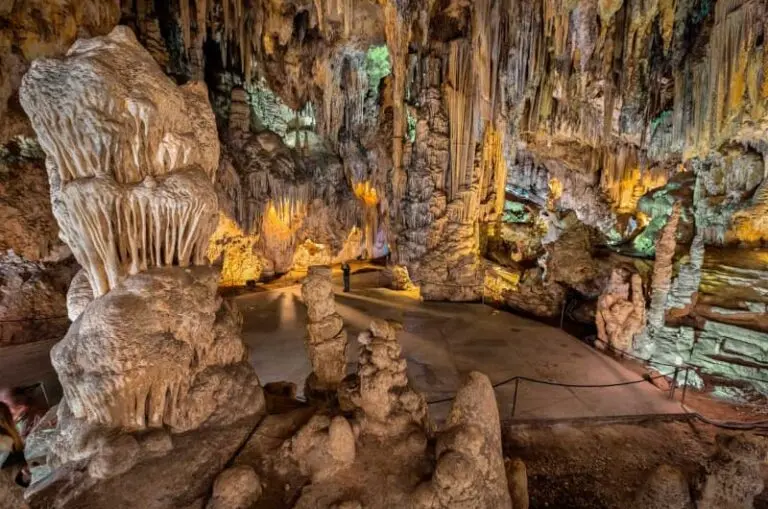 The Nerja Cave was discovered in 1959 by a group of young Nerjeños. Of historical and natural interest for its archaeological remains, which include some cave paintings, and for the formation of stalactites and stalagmites that cover the ceilings and walls.
It is undoubtedly one of the places not to be missed on your visit to Nerja.
3. Cascada de Maro
It is undoubtedly one of the places not to be missed on your visit to Nerja.
This is undoubtedly one of the most popular activities of the summer in Nerja.
Residents and tourists from all over the world come to this little paradise to kayak and paddle surf along the Maro-Cerro gordo cliffs from the Maro beach, which is only 5 minutes away from the Maro waterfall.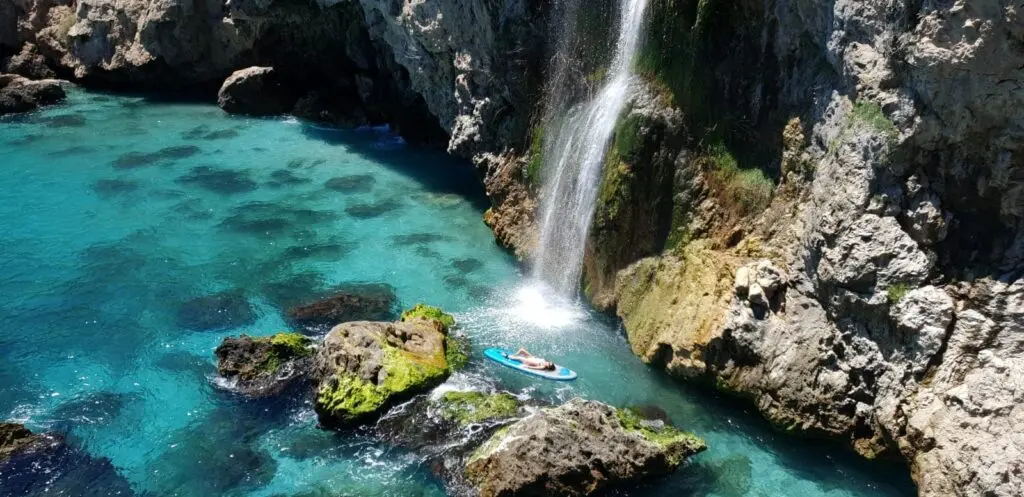 Its crystal clear waters, its waterfalls and its caves and rock passages will make you live a magical and unforgettable experience. You can enjoy guided tours where the instructors will make you live a unique experience and ensure your safety or rent a kayak or Paddle Surf and live your own adventure.
Whichever option you choose, we assure you that the experience will be unique, refreshing, fun and unforgettable.
In this link you will be able to make your reservation directly and have all the information you need.
4. Senderismo Río Chillar
Aquatic hiking route along the Chillar River
A very exciting and refreshing excursion to do in summer as it is a hiking route along the course of the river Chillar and through its famous "cahorros" of limestone rock, so narrow that you can pass between them by touching them just by opening your arms.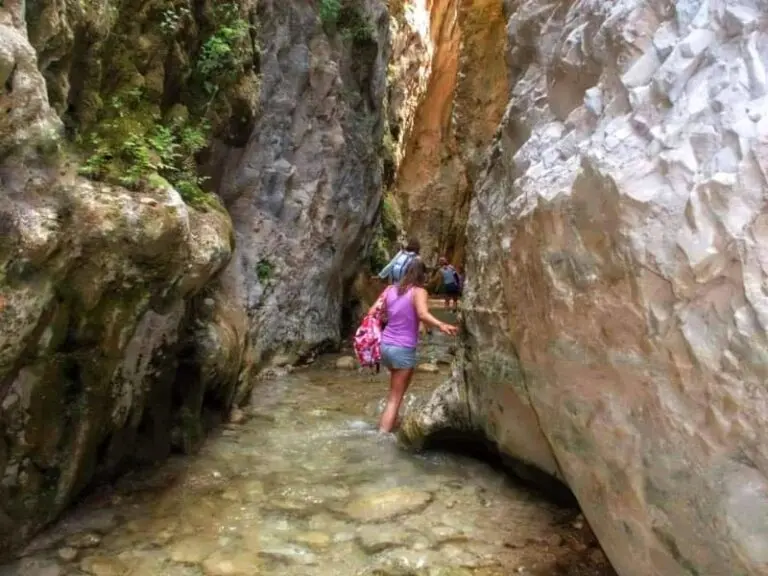 Small waterfalls, spectacular passages and its fantastic pools will make your day one of those that will remain forever in your memory. We advise you to be prepared with good hiking shoes that can get wet, this is the most important thing because it can make a big difference in how you will experience the hike.
5. Senderismo Sierra de Almijara Tejeda y Alhama
Route through the Sierra de Almijara, Tejeda, Alhama and the Acantilados Maro-Cerro gordo natural area.
Lovers of hiking in this province love these two routes that we explain here.
The peaks of the Sierras de Tejeda, Almijara and Alhama Natural Park form a natural border between the provinces of Malaga and Granada.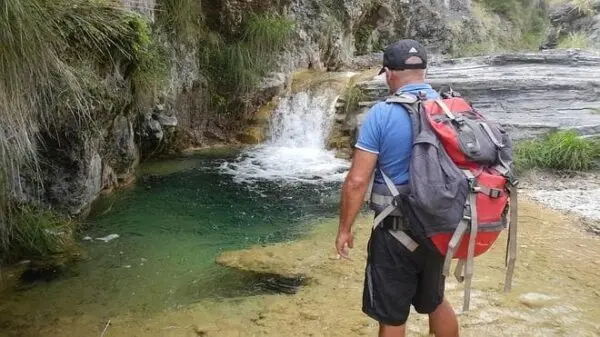 Las sierras de Tejeda y Almijara se ubican del lado malagueño, en el corazón de la comarca de la Axarquía. You will find a lot of different routes to do in this Park, easier, cooler or in steeper areas for the more adventurous.
The other we propose is the route through the natural area Acantilados de Maro-Cerro Gordo, which is suitable for everyone as it is of low difficulty. A beautiful walk through which you will discover the different watchtowers such as the tower of Maro or the tower of La Caleta and the most beautiful coves in the area, El Cañuelo, Cantarriján and Cala del Pino among others, while enjoying the breathtaking views.
6. Buceo y Snorkel Paraje natural Maro-Cerro Gordo
If you like diving or snorkelling and discovering the seabed, here is another alternative. Its amazing crystal clear waters invite you to do so.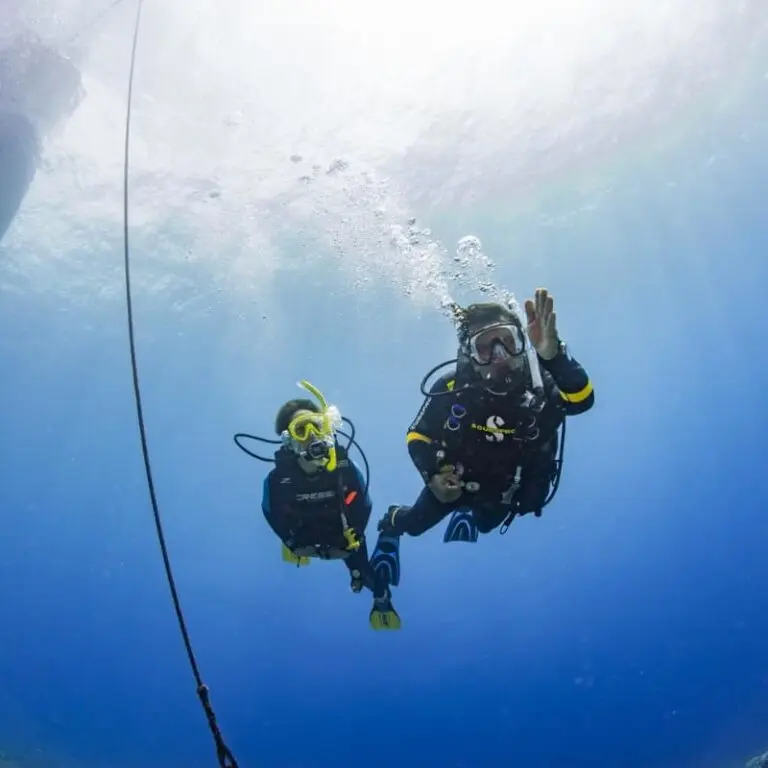 Being an area where the Mediterranean mixes with the Atlantic currents, its biodiversity is very wide; octopus, conger eels, moon fish, dolphins and an endless number of other species that we are sure you are going to love.
Whether you are one of the most daring and prefer to dive or if you just want to stay a little more on the surface and do a guided snorkel, we recommend you to put yourself in the hands of one of the family companies that has been in this area for the longest time and with whom we are sure you will be delighted. To see their services you can go to Nerja Diving.
7. Parasailing en Burriana
Another activity we love is parachuting from Burriana beach.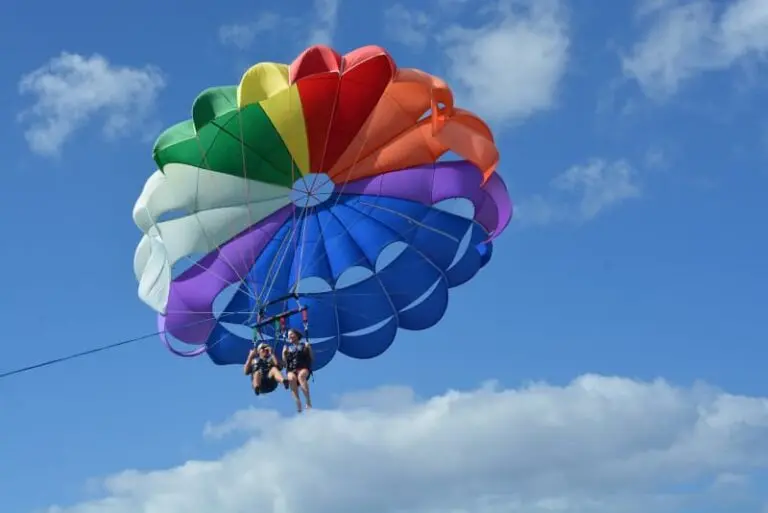 Flying over the cliffs will be an unforgettable experience. A bird's eye view of Nerja for the bravest. An activity full of adrenaline but at the same time full of peace when you float up there and feel like you have wings.
For this activity we recommend that you contact WaterSport Nerja, the only company in the area with which you can enjoy this experience.