If you are planning a trip, treat yourself to a holiday in Nerja, Malaga. The perfect place to enjoy beautiful sunsets, tapas on the beach, shopping and sightseeing.
Table of contents
The best beaches in Nerja, Malaga
Playa de Maro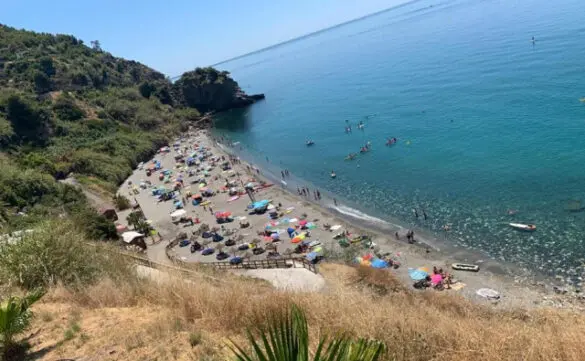 Maro beach enjoys enormous popularity throughout Andalusia and much of Spain.
The first thing that makes you fall in love with Maro Beach is its pure nature. Surrounded by vegetation and cliffs.
Another attraction of Maro Beach is its proximity to the Maro Cerro-gordo waterfall.
You can visit this place either by kayak or paddle surfing, with the service of tour and rentals available on site.
Wherever you are on the Costa del Sol, if you say "Maro" or "Maro beach", you will always find someone who will tell you wonderful things about this place and we promise that when you visit it for the first time, it will be impossible not to come back.
No matter how far you are from this idyllic beach in Nerja. You will always come back to Maro.
Playa de Burriana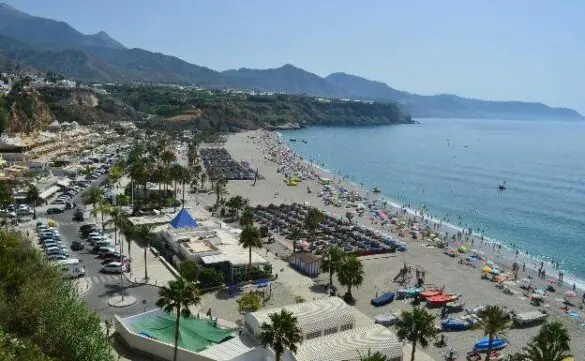 It is one of the most popular beaches in Nerja and is made up of a mixture of fine sand and pebbles. At 900 metres long and 40 metres wide, there is room for everyone, even in high season. There is a wide variety of restaurants, cafes and shops on the beachfront, many of which serve delicious fresh seafood.
Sunshades and sun loungers can be rented here, as well as pedaloes in high season. Water sports and other activities such as scuba diving and day cruises along the coast are also available.
There are also several children's play areas with slides, climbing structures, etc. along the beach.
Playa Burriana in Nerja can be reached by road (there is plenty of parking but it gets crowded in summer, especially at weekends) or on foot from the town centre, passing through the Parador area.
Playa Torrecilla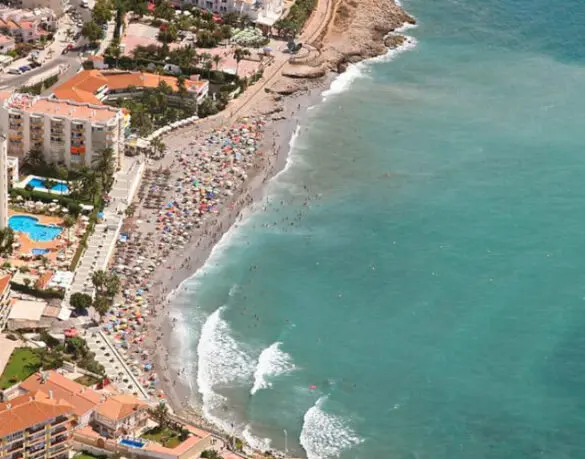 This is probably the second most popular beach in Nerja, on the other side of town from Burriana beach. It has been artificially widened to create a perfect beach for small children, with shallow, generally calm water and soft sand. Sun loungers and parasols can be rented here and there are many restaurants and cafés in the surrounding area.
Playa el Salón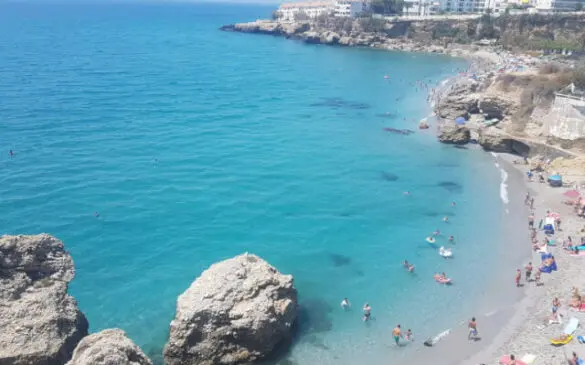 This beach is a true find. It is a stonethrow away from the centre of Nerja, but most visitors don't know about it. It is small and secluded, with good sand and a beach bar. To get there, follow the cobbled path to the right of the Balcón de Europa, next to the Toboso aparthotel.
Playa Calahonda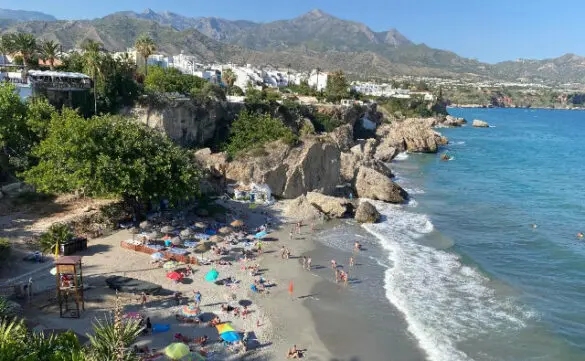 It is located to the left of the Balcón and is accessed by a fairly steep path behind a water fountain on the left as you approach the start of the Balcón promenade. It is a small, picturesque fishermen's beach, with a mixture of sand and small pebbles. The rocks on both sides make it a sheltered beach and during the summer months there are sun loungers and umbrellas for hire.
Playa Caletilla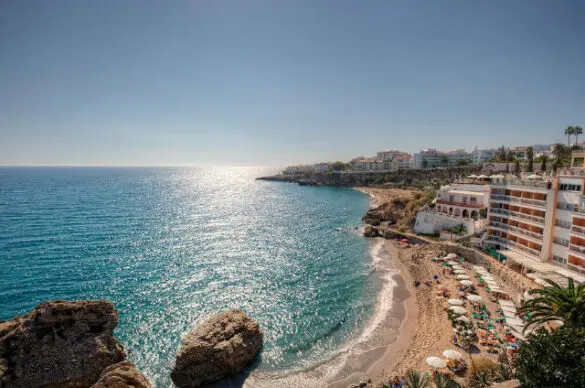 This is a very small beach located in front of the Hotel Balcón de Europa, with softer sand than other beaches in the area, which tend to be more shifty. It can be accessed through the Hotel or from Calahonda Beach.
Playa Carabeo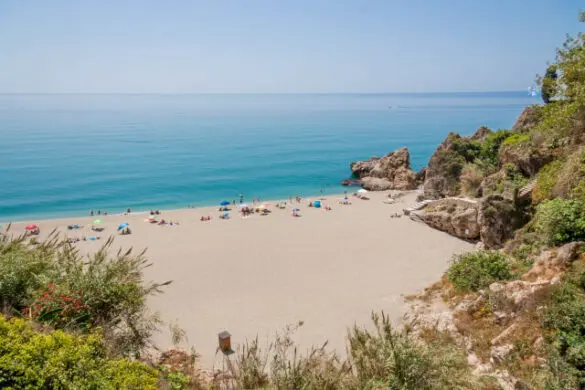 This beach of Nerja is located along the Paseo de los Carabineros, which runs from the Balcón to Burriana Beach (although the latter part is closed due to the instability of the cliffs). Therefore, it can now only be reached via a steep flight of about 100 steps from the end of Carabeo Street. The difficult access and also the fact that it is only visible from a small viewpoint make this a rather isolated beach.
Playa El Chucho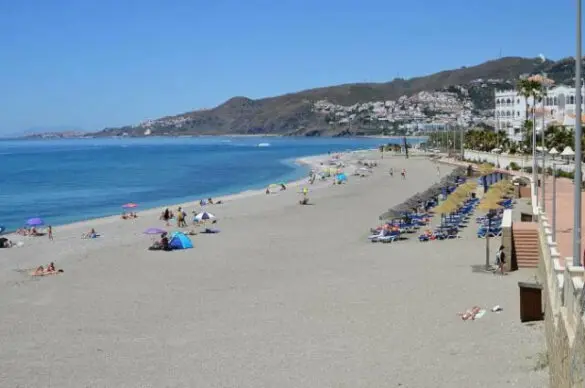 It is a small beach located between Torrecilla beach and the Playazo, where the river Chillar reaches the sea. It is a sheltered beach with shallow waters, ideal for families.
Playa El Chorrillo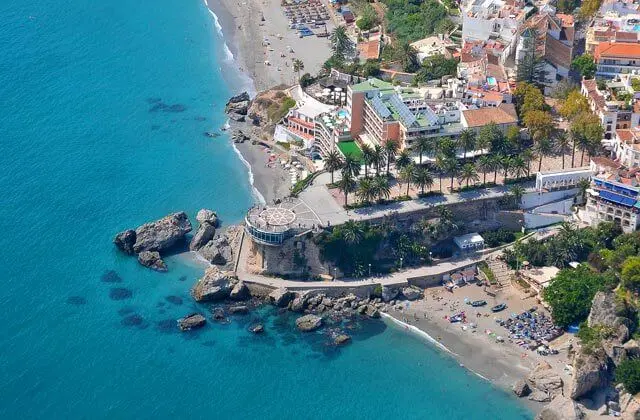 Chorillo beach is a set of 3 coves, enclosed by huge rocks that make it the perfect place for snorkelling. It is accessed from the Paseo de los Carabineros and is located between Playa Calahonda and Playa Carabeo.
Playa El Playazo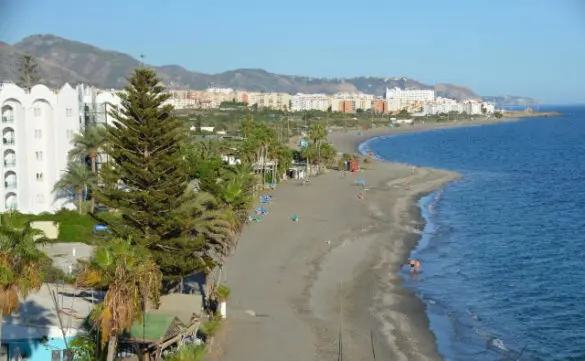 This beach is located at the westernmost end of Nerja and, with a length of about 2 km, is the longest and most rugged beach in Nerja, stretching all the way to the Marinas de Nerja hotel complex. It's a good place to escape the crowds, and the beach still has all the usual facilities, such as showers and toilets (open only during the summer months) and beach bars along the frontage. Access to the beach is possible both by car and on foot.
Add to this more secluded beaches along the coast near Nerja and in neighbouring Maro and you can see why Nerja is the perfect place for a beach holiday, whether you are looking for water sports and beach bars, small secluded coves or almost deserted beaches that can only be reached on foot.